Gifts will be doubled...
up to $50,000! 
We are resolved to start the new year with hope and resilience. Our community is strong, and we take care of one another.
At the Montrose Center, we help vulnerable members of our community navigate life challenges. We need your help to continue this important work. Thanks to the Leadership Match, your donations will be matched dollar for dollar, doubling your impact. 

Our goal is to raise $100,000 – $50,000 raised from individuals like you, plus the matching funds. This will allow us to help more vulnerable members in our community and to address the ever-growing need.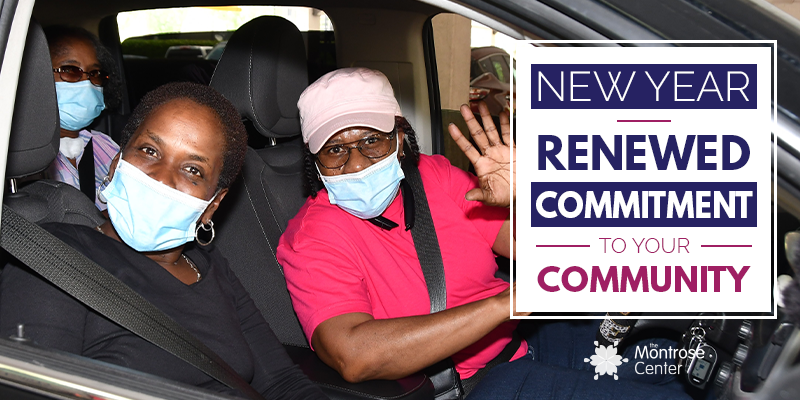 Benefiting the Montrose Center
As one of the nation's largest and most comprehensive LGBTQ centers, we pride ourselves on helping the most vulnerable members of our community. That includes those struggling due to COVID, seniors, homeless youth, individuals facing food insecurity, and those who've recently survived domestic violence, sexual assault, or hate crimes.
The Montrose Center is a home for LGBTQ Houston in times of need, healing, collaboration, and celebration. Areas of focus include: youth, seniors, mental health, women's services, HIV prevention & support, and so much more!
Join us as we work toward a healthier society marked by permanent, positive changes in attitudes and behaviors towards the LGBTQ community, and the ability of all LGBTQ people to realize their fullest potential.
Thank you for considering your LGBTQ center. Your gift will empower the lives of 100,000 LGBTQ Houstonians!

$50,000 Leadership Match
Every dollar you donate will be doubled! We can't thank the following individuals enough for the matching gift opportunity. 
Lead Gifts
Chris Robertson
Tara M. Kelly
Anonymous Donor
Karen Carlson
Bryan Cotton
Contributors
Tina Burgos
Aaron Masterson
Nancy Sims
Michael Sirimaturos
Dr. Ralph J. Herring